4X Race - GOLD COAST
4X Race - GOLD COAST
The first round of the 4X series in Queensland was held at Illinbah, in the Gold Coast hinterland. I was stoked to be out on the new Banshee. The track was rocky in places and a little bit rough.
So it was cool to test out how the bike felt on the terrain. I can change the settings on the rear shock to make it stiffer or leave it with the full travel. I opted for full travel on this track front and rear. On smoother tracks I'll lock it out. My gate starts aren't fantastic and I wobble a bit when waiting for the random start.
Something to improve on this year thats for sure. I had 4 motos and came in 2nd place in each. Then in the final I got a bad start and was sitting in 3rd. Then had a sprint finish for 2nd and 3rd. I managed to take a better line to the last corner and get in front (see photo below) and took 2nd place.
Sunday, 4 October 2009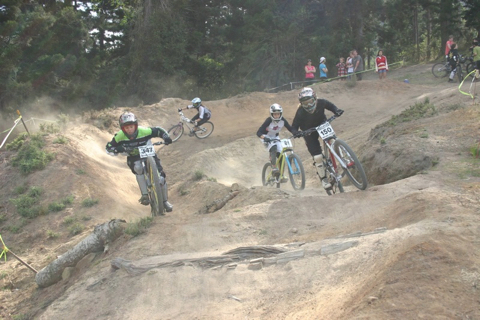 Photo above. Thats me on the right hand side in second place, trying to get past on the outside.