Canberra World Cup!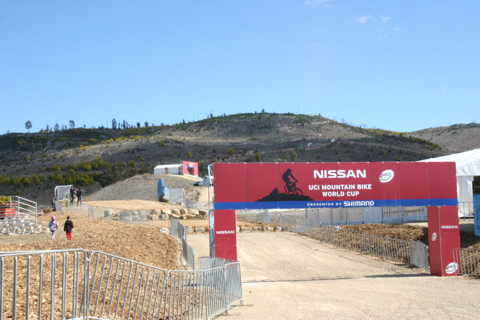 Photo Above: The finish line.

What a fantastic atmosphere at the World Cup! It's a shame it always has to rain at these events though.

I decided to take my bike down to Canberra despite my wrist still in a cast. I hadn't been on my DH bike since the crash earlier in the month. I did sneak out for an extended XC loop into work at the start of the week, but that was the extent of my 'training' for the World Cup.

Without knowing if I could even ride or hold on, I figured if I didn't bring my bike I would be spewing. We arrived to Canberra on the Wednesday night and my bike failed to turn up. Apparently it was still in Brisbane. Not a good start to the weekend. It arrived the next morning so that was all ok.

Practise was sketchy and I struggled to hold on with my left hand and also reach the rear brake. I also could not lift the front of the bike too easily. Feeling very unfit and not confident, I decided to rule out hitting any of the big jumps and just roll down the track. By race day I figured I may as well race. I kind of hoped that I didn't qualify so then I could watch the main race in the afternoon. Not the best attitude I know, but it's not like I was in top form for the race!

I came in 21st place with only the top 20 qualifying. So I guess I got my wish! It was pouring with rain, and not very inviting to get back out on the bike. So I sat back and watched the pros!

Well done to Tracy Moseley and Greg Minnar for taking the win.

The after party was out of control as per normal. I am feeling very tired now. I can't wait for the Nationals, hopefully I will be fully recovered and in fine form by November.

Thanks to Tony and Sacha for being my support crew, driver, caddie etc (TEAM RUTTER). Thanks to Annette for lending us her car and to Jimmy from Bikeology (
www.bikeology.com
) for keeping my bike running nicely over the weekend.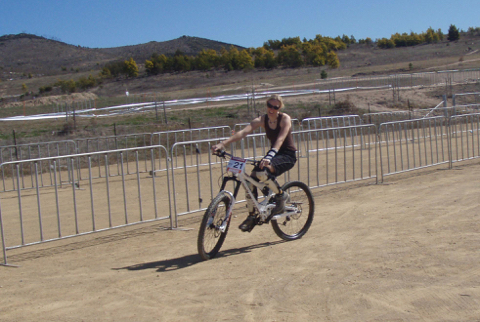 Photo above: My first time on the bike in ages… Wrist in cast. Rolling around the car park at Canberra World cup.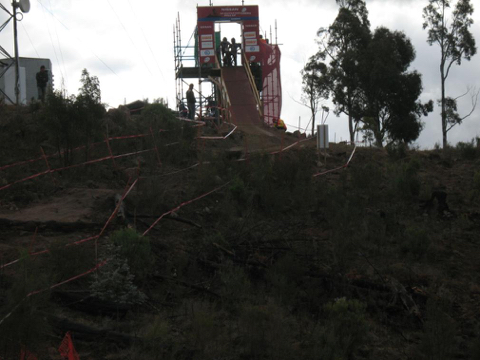 Photo above: The start ramp.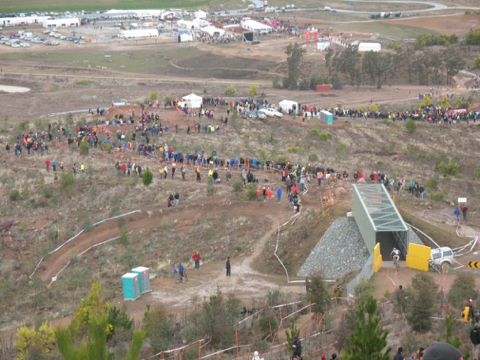 Photo: Looking down the track from the midway point.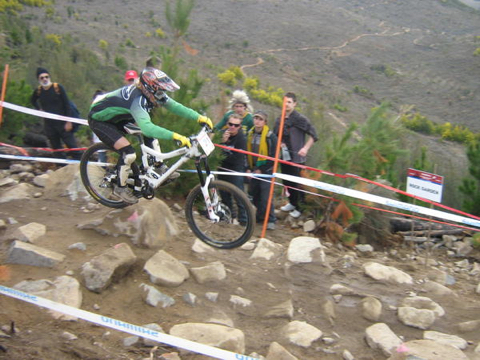 Photo above: This bit was tricky with my broken wrist. My hand kept bouncing off the bars.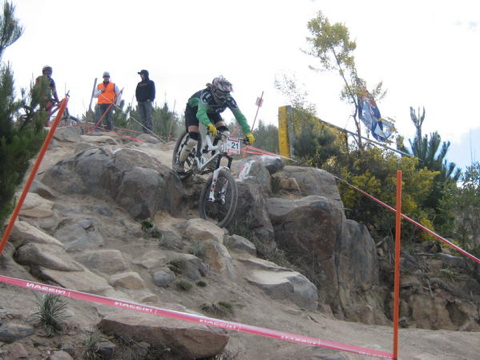 Photo above: Dust and rocks.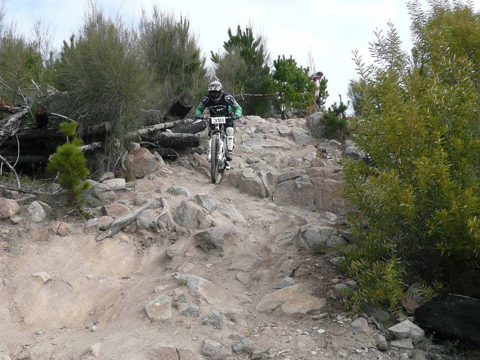 Photo above: The top rock garden.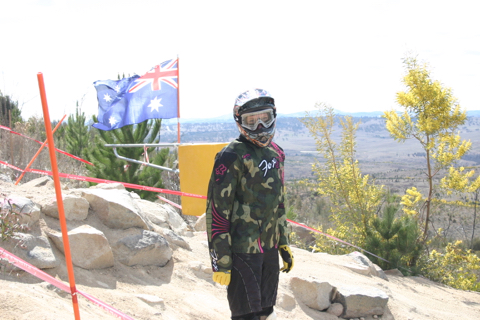 Photo above:Me and the Aussie Flag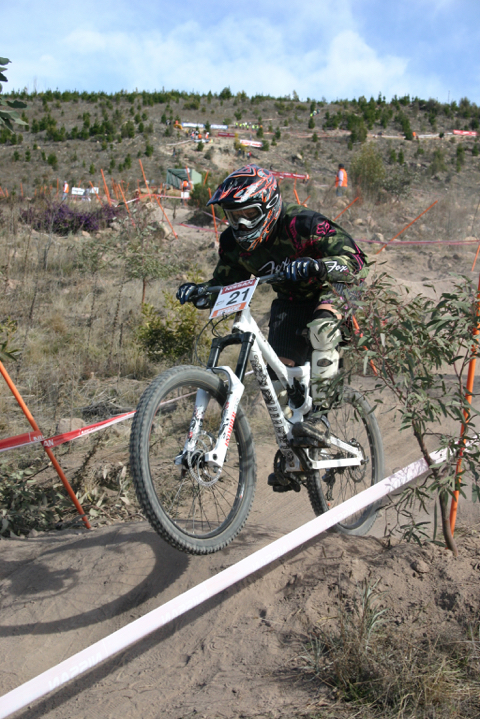 Photo above: the bottom part of the track.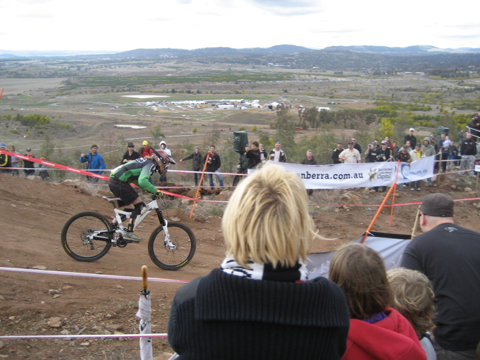 PHoto above: Me and the crowds! I was feeling lame because I didn't do the big jumps. I felt like yelling out "I have a broken wrist!"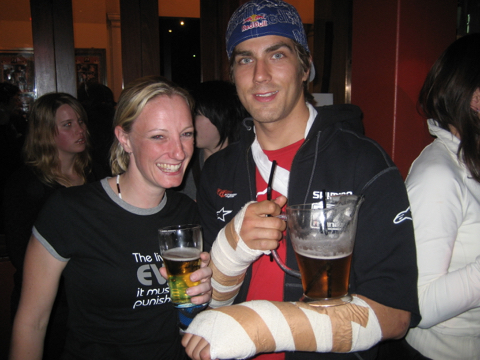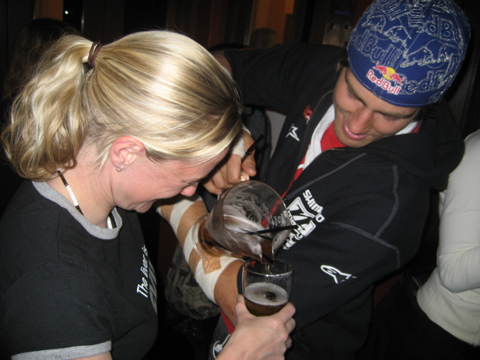 Photos above
: Poor Matti Lehikoinen. Broke both his wrists. After 6 hours worth of operations he got a total of 12 screws, 3 metal plates, 3 pins. At least his mates got him a jug of beer with a straw so he could still drink.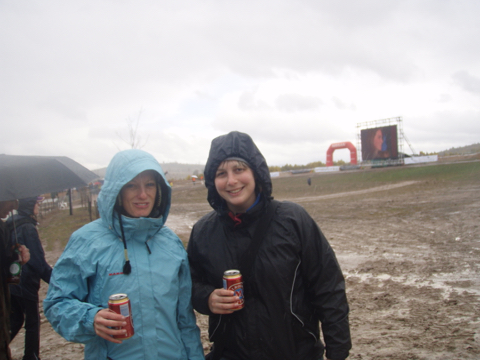 Photo above: Sacha and I. After qualifying in the rain.