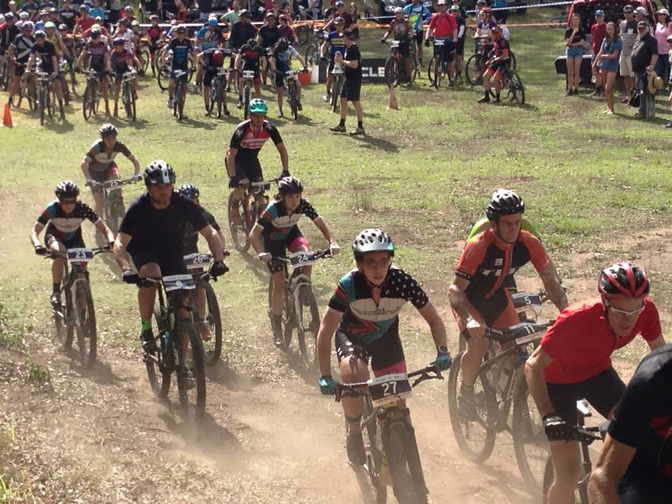 My race morning started at 2 am, with Baby Z waking up and needing to be fed, rocked and patted back to sleep. Catching another few hours sleep between 3am and 5am gave me just enough energy to grab my racing gear and a coffee and get on my way out to the Adare XC track.
I didn't get a chance to ride the whole track before the race, so I was chatting to someone about the track layout. I remembered that I had actually raced at Adare before. And it was in 2008; 8 years ago!! I mentioned that I raced here 8 years ago, and I could sense that they were thinking '
oh gee this chick is older than what I thought…
'.
The conditions were dry, dusty and humid. It was only 7:30am, so we would be in for a hot race.
I was under the false impression that todays race was more of a short course format. But it was the full XCO style race (Olympic style cross country racing). That means it's about 1.5 hours of racing for A grade women.
Considering my rides lately have not been much over 1 hour, I was feeling a bit nervous about my stamina to finish the race.
There were 5 ladies in A grade and it was all smiles at the start line. Off went the gun and we took off in the dust behind the A grade men. Let's just say my race starts need a bit of work, and coupled with my lack of sleep and doubting my ability to race the longer format, I was behind the others within the first 100 metres. I decided not to chase them down and risk blowing up and not finishing the race. I had no idea what the track was like and wanted to make sure I could climb the climbs and make it down the technical stuff in one piece.
It may not be the best race strategy, but hey, it's been a while since I raced A grade in the XCO format. The reality was that I was in for a longer race than I expected, I didn't know the course and I was tired. So tired. So I decided to focus on keeping my rhythm, aiming for some consistency in my lap times and finishing the long distance. I was enjoying being on the bike and getting some time to myself.
The track had some fun rocky sections and not many climbs. There was a whole section which seemed to go forever with flat turn after flat turn after flat turn. I was started to get a bit nauseous from the constant turning.
Negative thoughts about my racing started to creep in midway through the race. Sometimes it's hard to 'fire up' and get racing when you can't see your competitors and are way behind. I find it much easier to race when I have competitors close by (in front or behind). I hate getting negative during a race. I soon snapped out of it and battled out some sections with the B grade men who were coming through behind me.
At one stage I thought it was raining. But it didn't eventuate. Then I felt the 'rain' again in the same section of track, right where the cicadas were chirping. Next lap I realised it wasn't a coincidence and that the 'rain' must be related to the cicadas. Perhaps it was cicada pee. I'm not sure…
On my fourth and fifth lap I started to remember what was coming up next. So I got a bit more flow on the corners. This didn't help me much though as Anna Beck was already at the finish line sipping her ice coffee. I came through in 5th place with some consistent lap times.
It was great to mix with the fast ladies and I look forward to the next race.!

Photo: Race results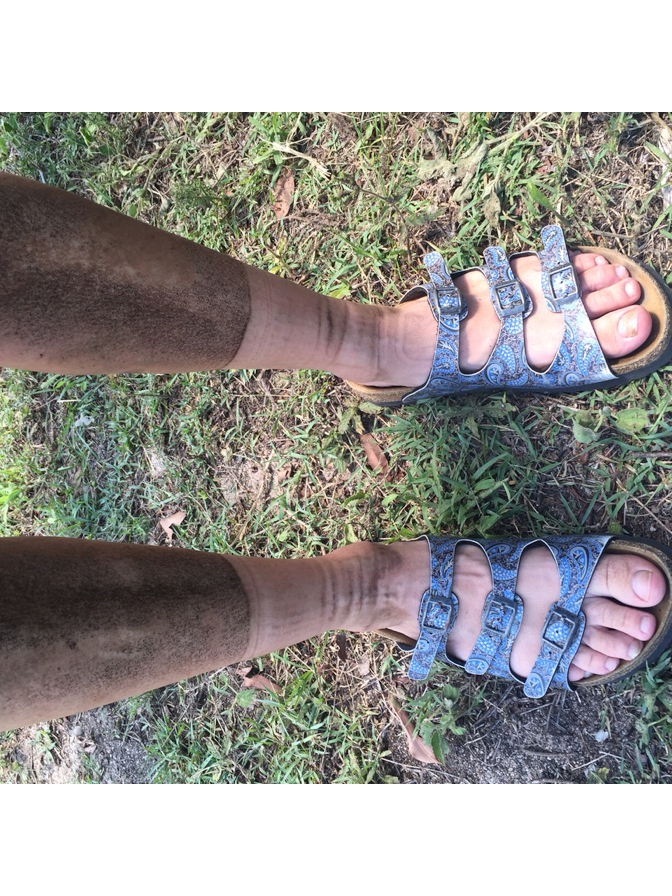 Photo: No race photos of me from today. Here are my dusty legs though after the race.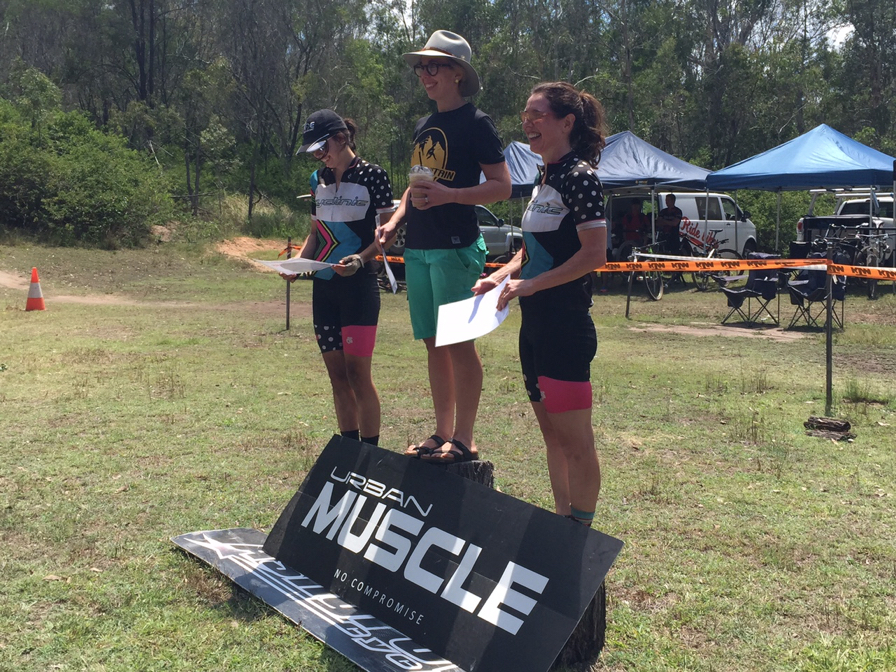 Photo: A grade ladies podium. Megan, Anna and Jo. All from
Sol-Breads Cyclinic Womens MTB Team
. Congrats ladies!