TASSIE NATIONALS DH RACE
TASSIE NATIONALS DH RACE

Back to Tassie. Tony and I spent the week between the Penny Farthing Nationals and the DH Nationals driving around Tasmania. Lots of wineries, great beaches and walks. We met up with Nick and Trish on the Thursday in Hobart at the Whiskey Distillery. Nick had hired a massive van so we could get around with the 4 DH bikes (Mine, Tony, Nick and Joes). Nick found out that massive vans don't park too well in tight car parks. The van accidentally clipped a parked BMW. Oops. Nick wasnt happy as he didn't choose the lower excess and therefore it would cost him $3000, so we drank some whiskey. After whiskey we went to the Cascade brewery. Nick got a parking fine. The weekend wasn't too good for Nick with a taco'ed front wheel in the DH qualifier and then we got evicted from our accommodation (no fault of our own, the park stuffed up).

Anyway, Back to racing! Last time in Tassie I only managed to ride 20 seconds of the track before breaking my wrist. So this time I made sure my bike was built right and took it slow on the first run. The track had changed, but nothing too tricky in there. It took me a while to build up the courage to do the 'Wrist drop' (see cover photo). Its not overly big, but has a nasty kick if you get it wrong. Tony found this out when he did it the first time and crash landed (not inspiring me with confidence!). I finally did the drop and it was fine :) yay. I didn't feel like I had long enough to learn all the good lines on the track. I had only ridden my DH bike once since the last Nationals in Dec - not good preparation! So I wasn't feeling too confident.

Tony practised but wasn't too keen to race. Tony calls it CBF'd. In my seeding run, the track was fairly blown out. Some corners were very slippery and dusty. I ended up going over the bars in my seeding. Something I havent done in a while! I managed to get my feet down and run it out, so no injuries. I rode straight into a hole and stopped dead (it wasnt there before I swear!). UCI points were up for grabs on this round, so considering I didn't race the National Champs, it was a good chance to get some points so I can aim to be eligible to race any World Cup races later in the year. My race run was ok, but fairly tentative. The track is long with lots in it. Its great fun at the top with lots of corners. Its the first time I have had good fun on a DH track in a while. I ended up in 7th Place (Now I have 9 UCI points).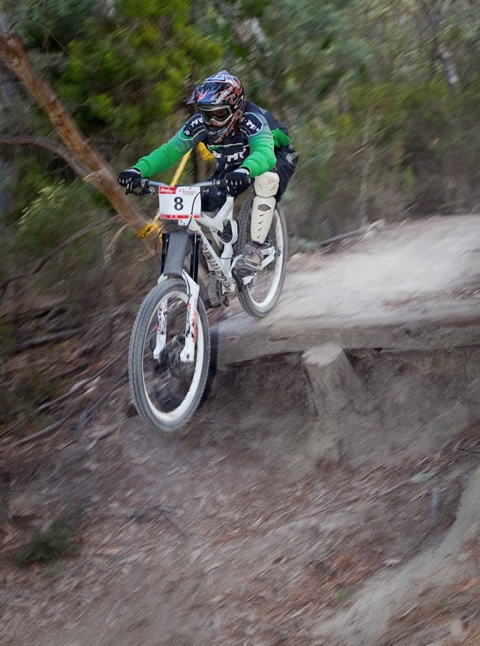 The 'wrist drop.' doesn't look big, but theres a hole in the landing.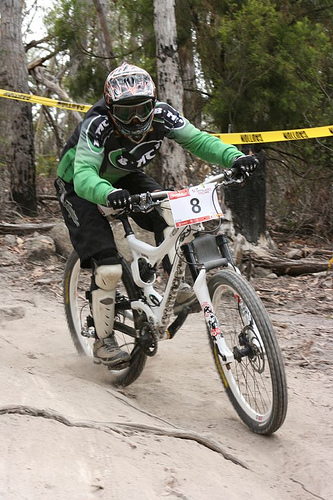 Me in the DH

I entered in the 4X for some fun. I raced on my DH bike so it wasnt ideal. My gate starts are getting better, but because I have no ranking I get the worst gate numbers to start in. There were only 5 girls racing, so I had a good chance to get into the finals! Well, I didn't do too well in my heats, but it was good experience. I ended up on equal points with 2 other girls (so sitting equal 3rd), but because I have no ranking, I got bumped out of the finals! I still don't really understand the rules, but I was a bit annoyed. Oh well next time. I need to get a 4X bike and some practice if I want to be serious about it. My DH bike is too heavy. I ended up in 5th Place.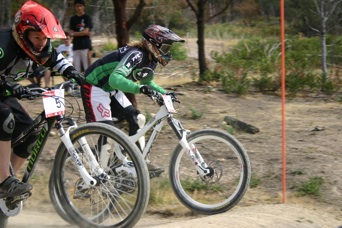 Me in the 4X

The National Champs are in SA for the next 3 years. I am glad its not in Canberra any more, as I dont really like that track. However, I dont think Adelaides track is up to Champs standard (the DH that is), as its quite short. Still there is plenty of hill there and more trail can be built. XC is an option, there is time to switch and focus on the XC.

Sunday, 5 April 2009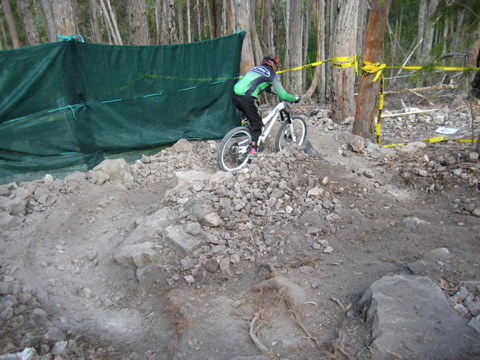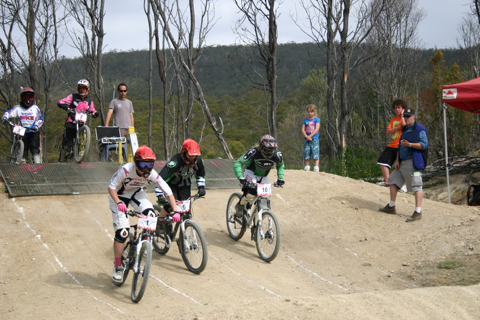 4X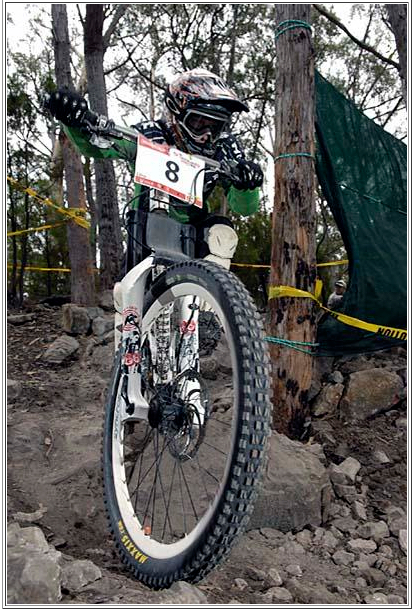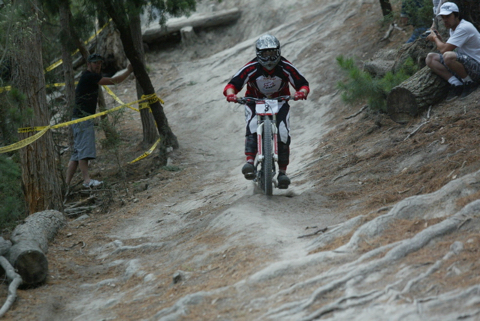 Leigh in the DH