Penny Stack
26 Nov 2011 Filed in:
Other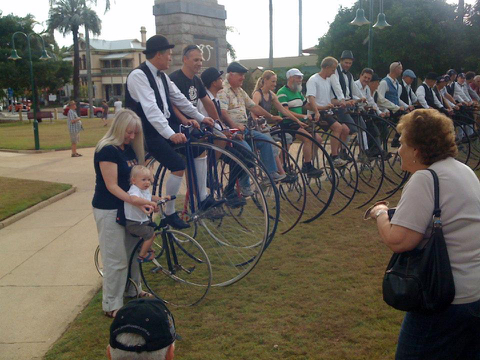 Photo Below: Part of the Stack. My mum and Felix on the end. 2nd on in Tony, 5th one in is me, 9th one in is Ian.
Every year, Queensland's Penny Farthing riders meet at Sandgate to create a 'Penny Farthing stack'. No, it's not where you fall off the Penny and 'stack it'. It's where you all climb aboard your Penny and line up together, balance and interlink your arms. It's quite tricky because you have to balance up there on your bike. Hoping that the people next to you don't wobble and fall off.
The Guiness world record for a Penny farthings Stack was made in 2002 at Evandale, Tasmania with 69 Pennys. In 2003, this record was broken by "The British Ordinary Enthusiasts who created a self-supporting line of 131 penny farthing bicycles in Abbey Park, Leicester, UK."
Today in QLD we managed 34. Which is not a bad effort considering the World record is 131!
Photo Below: Here you can see how our arms interlock. So you arn't actually holding your own handlebars.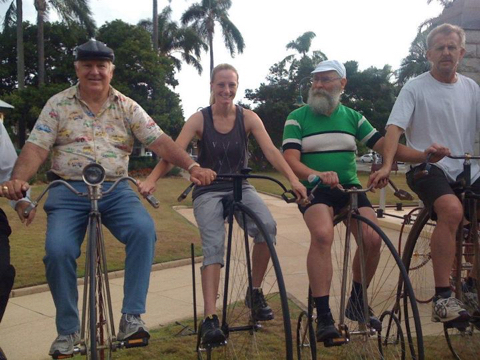 Photo Below: Tony on the end and me near Santa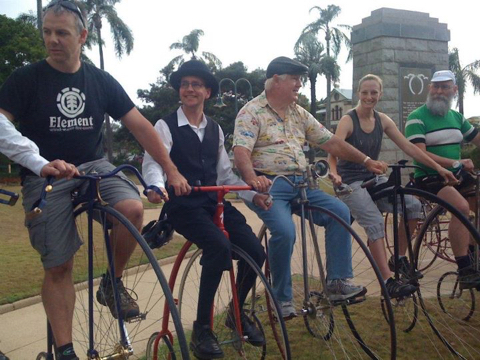 Photo Below: The whole stack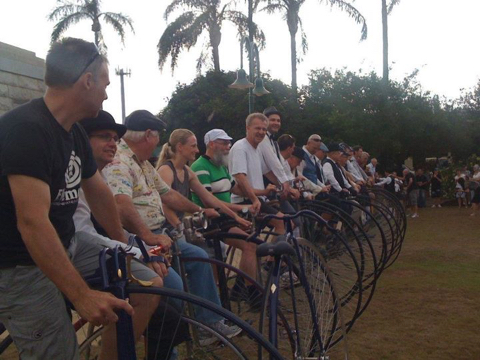 This post contains affiliate links.