Toowoomba State Round
TOOWOOMBA DH RACE


Toowoomba is a nice track, tricky and rocky in places, and fast and tight in others. Saturday was dry and the track was sandy in places. I had a few close calls in the sand nearly resulting in the first stack for the Mini dee (my new Commencal Supreme Mini Dh).

Saturday night it rained and rained and rained. We tried to find somewhere to eat and Sizzler (yep they still have them here in QLD!) had a line up outside! Apparently Jimmy Barnes was playing so most accommodation was booked out, so were places to eat. It continued to rain.

Sunday morning, the track was slippery and clayey. It started to tack up a bit when the sun peaked through the clouds. The competition was good in the Elite women's field. Although there were only 3 contenders for the crown, it was anyone's race.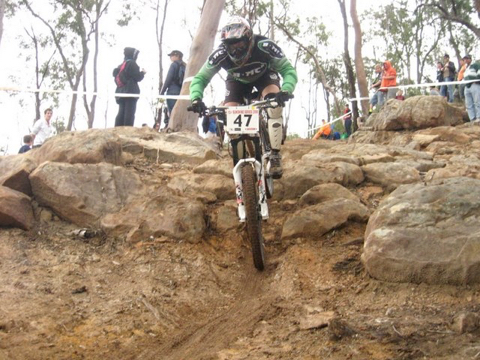 Photo: Me through the rock garden.
There was the local girl, Sam who rides a bit ragged and loose, but that was perfect for the course which was dry and loose and sometimes rocky in the corners. Although only new to the DH scene she had the home track advantage.
Then there is Lea. She is a fast rider, gutsy and smooth. Lea has raced the track before and has been top of QLD DH scene in Elite women for a while. She tried to fix her bike a few nights before the race and lost the rebound in her rear shock. So she was riding an old short travel mongoose (sounds like it's a disadvantage, but I actually think it was better suited to the track).

Then there was me. I like to think I am smooth and nimble on tighter courses and I tend to ride well in the wet. I have come up on top for the last 2 races against the other two girls. So, if it were horse racing, I'm not sure who the favourite would have been.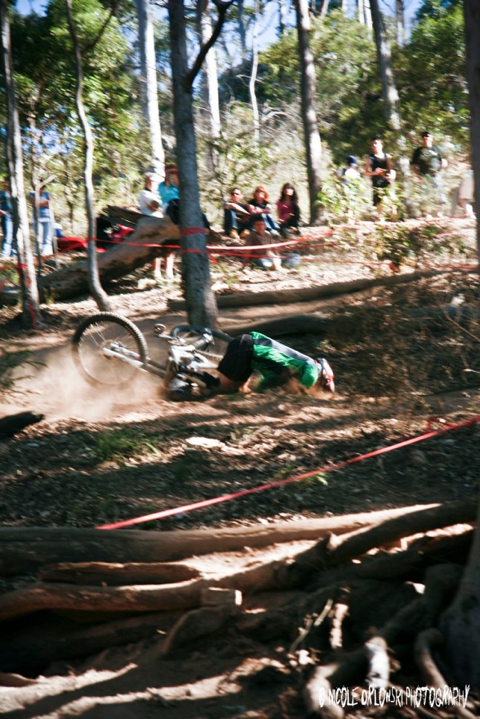 Photo: me near the bottom of the track.
In the qualifying run the course was wet but starting to become tacky in places. The local girl Sam, had a spectacular stack on the last corner over a double. Lea had a clean run. I got stuck in some soft dirt on a tricky corner for a bit, then pinned it down a rocky fast section and lost the front wheel somewhere and had Mini dees first crash. I'm not sure what happened but rider and bike where dis-attached from each other.

Race time came around and the heavy rain and then more rain meant the track was very very wet and slippery. The clay had lost any kind of grip that it had earlier. This would be by far the trickiest wet track I have raced on.
We all got stuck off the track on the same tricky corner and Lea had a crash on a steep rock/cement chute. Presentations were put on hold due to the weather so we weren't really sure who won. Results were posted later in the week, and I found out I had won by 6 seconds, which was surprising for me.

Sunday, 1 June 2008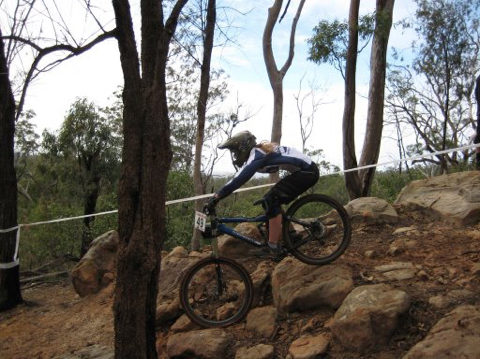 Photo Above: Lea